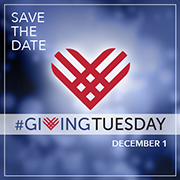 Giving Tuesday is a global movement with a mission to give thanks on Tuesday December 1 and celebrate all that is good!     Please join AZ4Education in helping raise funds for tuition scholarships in K-12 private schools in Arizona.
Education is our future and as a certified non-profit 501c3, School Tuition Organization (STO), we are here to support that future.      When you give to our organization, you will receive a dollar for dollar tax credit that reduces your Arizona tax liability.      In other words, the income taxes you already have to pay the state will lower the amount you owe and help a family get a choice in education!
Having a choice is always good, like how to spend your income taxes or helping your community or  a family and ultimately getting the best education you want.
Please consider making a contribution to AZ4Education on #GivingTuesday!   You will be making a difference in the future of every family in Arizona!
Please share with others!